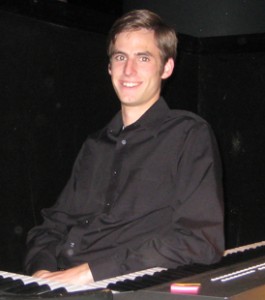 Born and raised in Dallas, Matthew J. Pool is an active music director, conductor, and arranger. He graduated from the Interlochen Arts Academy in Interlochen, Michigan, where he studied organ and piano. He graduated cum laude with a Bachelor of Music degree from Baylor University, where he studied organ, conducting, carillon, composition, and harpsichord. He completed his Master of Music degree in conducting (musical theatre emphasis) from Shenandoah Conservatory. Principal teachers have included Thomas Albert, Anette Albrecht, Thomas Bara, Lynette Geary, Joyce Jones, and Stacey Stalls.
He has performed in notable concert venues across the country, including Grace Cathedral in San Francisco. He was awarded a scholarship to attend the 2009 French Organ Music Seminar in Paris, France. He was also a recipient of the Biggs Fellowship for the 2011 convention of the Organ Historical Society in Washington, DC. He has accompanied various choral ensembles for performances the Rutter Gloria, Tres Cantus Laudendi (Wilberg), Kleine Orgelmesse (Haydn), Requiem (Fauré), Requiem (Rutter), and Requiem (Duruflé). He was chosen as the featured performer for a Baylor School of Music annual convocation and was awarded the Dean's Award for Outstanding Musical Performance after his junior year at Baylor.
With over fifteen years of experience in church music, Mr. Pool has worked in Anglican, Roman Catholic, Episcopal, Baptist, and Methodist churches in Michigan, Texas, and Virginia.
His compositions and arragements have been performed around the world in both sacred and concert settings, from the west coast of the United States to Europe. He won second place in the TMTA composition contest for his Offertory on Hyfrydol, and his music is soon to be published by Lorenz.
Mr. Pool has been actively involved in theatre, and his growing list of regional theatre credits include The Addams Family, Annie Get Your Gun, Chicago, Funny Thing…Forum, Hairspray, Hello Dolly!, Jesus Christ Superstar, The King and I, Man of La Mancha, The Music Man, My Fair Lady, Oklahoma!, Pippin, and South Pacific. His national tour credits include Annie and The Wizard of Oz.
Mr. Pool is a member of the American Guild of Organists and the American Federation of Musicians.
Click here to view a resume, or click here to read more about the username SuperOctave.